With small size and thumb black shape, T5800 is always for spying GPS tracking, it can be hidden in wallet,student school bag,tool box and animal collar etc. Support SMS locating with Google map link, also GSM/GPRS real-time tracking on platform and mobile Android/IOS APP. The deep sleep working mode that can help the tracker to save power, it can last 40 hours when 1 location upload per 10 mins, and the standby time is 30 days.
Feature
Black and small for spy tracking
Ideal for kid's bag,handbag,luggage
Indoor tracking with LBS/Wifi
Like a thumb,very easy to hide
Built-in big/sensitive GPS antenna
Rechargeable 700 mah Lithium battery.
Specification
Size:66x35x14(mm),weight:36g
Quad band:GSM 850/900/1800/1900 MHz
GPS:U-BLOX G7020-ST,50 channel
Rechargeable 700mAh Lithium-Polymer Battery
Built-in Vibration/motion sensor
Antenna: Internal, GPRS Class 12
Position Accuracy:>=5m
Cold start:<27s, Warm Start: <5s, Hot Start:1s
A-GPS:AssistNow Online and AssistNow Offline service
Sensitivity:Tracking: (R)C161 dB, Cold starts:(R)C148 dB, Hot starts: (R)C156 dB
Advantage
>Hidden inside student bags, camera bags, wallet
>Hidden inside kid's cloth & shoes, pencil box...
>Hidden inside animal collar…
>Hidden inside men trousers belt,hand bag…
>Hidden inside bike seat post,car chair,tool box
>Hidden inside disable wheelchair..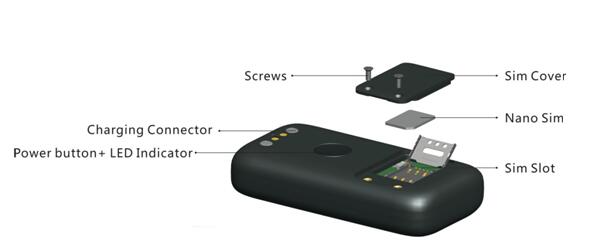 Package
1 x Tracking device
1 x Magnetic charging cable
1 x Manual
1 x Screwdriver and screws
1 x Belt holder (option)
1 x Velcro bag holder (option)
1 x Shoulder belt holder (option)