Vehicle GPS tracker VT-380
Introduction
VT380 is a GPS/GPRS based tracking device specially developed and designed for vehicle real-time tracking and fleet management. VT380 has inbuilt GPS module to obtain accurate position data and utilizes its GSM capability to send the position data to a specified mobile phone or server base for tracking and fleet management. With internal memory, VT380 can store GPS coordinates when there is no GPRS connection or at a specified interval requested by the user. One optional feature of VT380 is that a microphone can be linked out to be hidden somewhere inside the vehicle for listening to the cabin.
Feature
SMS and GPRS TCP/UDP Communication
Show Location Directly on Mobile Phone
Listen (Voice Wiretapping) (Optional)
Logging Capacity up to 180,000 Waypoints
Inbuilt Motion Sensor for Power Saving
GPS Blind Area Alarm (in/out)
I/O: 5 digital inputs, 3 negative and 2 positive triggering; 5 outputs
Analog Input: 2 analog inputs of 10 bits resolution for connecting fuel level sensor or other sensors.
Specification
| | |
| --- | --- |
| Items | Specification |
| Power Supply | +9V - +36V / 1.5A |
| Backup Battery | 850mAh |
| Normal power consumption | 85mA/h |
| Dimension | 104mm x 62mm x 24mm |
| Installation Dimension | 104mm x 83mm x 24mm |
| Weight | 190g |
| Operating temperature | -20° to 55° C |
| Humidity | 5% to 95% Non-condensing |
| Frequency | Quad Band GSM 850/900/1800/1900Mhz |
| GPS Module | latest GPS SIRF-Star III chipset |
| GPS Sensitivity | -158Db |
| GPS Frequency | L1, 1575.42 MHz |
| C/A Code | 1.023 MHz chip rate |
| Channels | 20 channel all-in-view tracking |
| Position Accuracy | 10 meters, 2D RMS |
| Velocity Accuracy | 0.1 m/s |
| Time Accuracy | 1 us synchronized to GPS time |
| Default datum | WGS-84 |
| Reacquisition | 0.1 sec., average |
| Hot start | 1 sec., average |
| Warm start | 38 sec., average |
| Cold start | 42 sec., average |
| Altitude Limit | 18,000 meters (60,000 feet) max. |
| Velocity Limit | 515 meters/second (1000 knots) max. |
| LED | 2 LED lights to show GPS/GSM status. |
| Flash Memory | 4MB |
| Button | One SOS Button |
| Interface | 2 Analog Input of 10 bits resolutions. |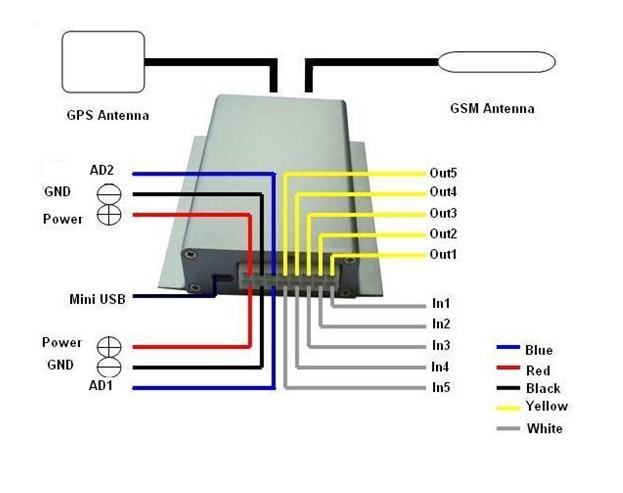 Standard Accessories
1 GPS Antenna
1 GSM Antenna
1 Set of socket cables
1 Relay