The sophisticated GPS microchip embedded into the heart of the tracker continually reads its own location from low orbiting global satellites and then utilizes the GSM infrastructure operated by major cellular network providers via the SIM card to transmit its current location to you. It can be used to protect and look for our old people and children. It can also be used for safety purpose and other purposes, such as remote positioning to protect property safety.
------------------------------------------------------------------------------------------------------------
(1)

making a phone call

: The authorization number call the watch that ring 1-4 hang up after, can reply a message that all related information longitude and latitude, the longitude and latitude position data can through the Google map searches a target address, calling in and ringing 5 behind automatically answer, can talk with each other as phone
(2)

Message (SMS) Mode

: before having settle authorization number, any number can send out a message "6660000"(0000 is password) to the watch, then will get a positioning reply.
Two-way talking communication
When you press button "Call 1", the device will call the pre-set number 2; When you press button "Call 2",the device will call the pre-ser number 3; then you can communicate with other person with two-way mode.
If someone call the device, then you will see the interface, you can answer it by pressing SOS button, otherwise it will answer automatically after 30 seconds, or you can hang up it by pressing ON/OFF button
-----------------------------------------------------------------------------------------------------------
Colorful dispaly shows
The display screen can show your exact longitude, latitude coordinates, time, date, speed, etc.
Real-time locating and tracking:
It can transmit the longitude and latitude coordinates by SMS or GPRS. If the devices get the GPS fix, the devices can send you real-time location;
Show Location Directly on Mobile Phone
This devics can support Google map link, the devices will send the SMS with http link, click the link, the detailed postion information will show on Google map directly. Smartphone would be better.
Use the authorized number to send a command to the devices, the devices will call the phone automatically. The phone holder can hear the sound around the GPS Tracker.
Two ways talking communication
Press the Call button on the devices, then the devices holder can talk with the phone caller. Also when the authorized cell phone number call the devices, it can talk with the devices holder.
SOS button for emergency rescue
Press the SOS button. the devices will send a help alert with location info to authorized cell number, then dial the authorized phone number.
The devices will send the message with geo info to the authorized number when it breaches the district.
Low battery alert­­­­­­­­­­­­
The devices will send an alert to the authorized phone number when it is low battery.
Support establishes three telephone numbers
The devices can support to set 3 telephone number as authorized number.
-------------------------------------------------------------------------------------------------------------
Charging voltage
110-220V
Working temperature
-20°-—65°
Limited working temperature:
-30°C -- -40°C, +80°C-- +85°C
Storing temperature
: -45°C -- +90°C
Accurate positioning:
3.0 m 2D-RMS, DGPS: 2.5 m
Speed Positioning:
0.1m/s, DGPS:0.05m/s
Power consumption:
standby 48 hours
Start-up time:
hot start: <1.5s Warm start: <34s Cold start: <35s (Autonomous)
GSM Module:
GSM850/900/1800/1900 Mhz Quad frenquency
Operating temperature

-20---65

Humidity

5%---95%

Dimensions

64.5mm×45.5mm×17.5 mm (main unit)

Voltage

Rechargeable 500mAh battery

Power supply

DC5V

Standby time

>48h

Buttons

SOS button for emergency aid; Call 1, Call 2,

Switch on / off buttons, interface switch button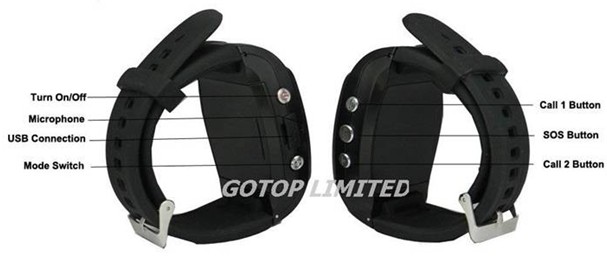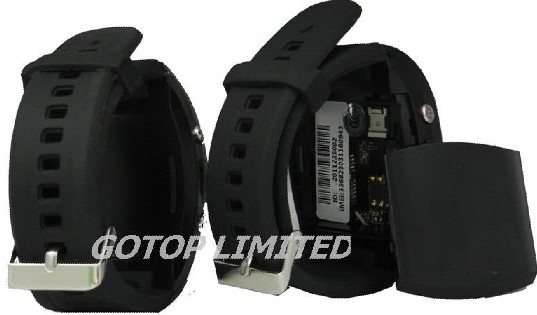 1. USB cable
2. Charger (US,UK,EU,AU)
3. Battery x 2
Box size: 14mm x 12mm x 11mm
Gross weight: 0.5 per box